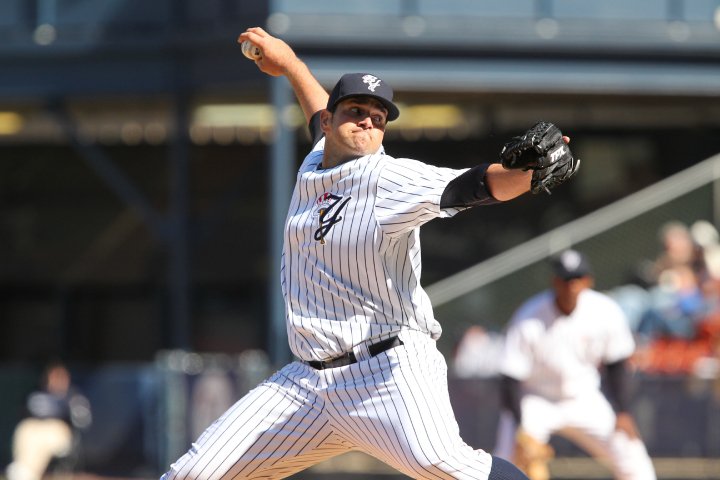 Jonathan Albaladejo who was racking up awards and ridiculous numbers in Triple-A, finally was given another opportunity to pitch with the Yankees yesterday when he was called up to replace Andy Pettitte who was placed on the DL. We have all been frustrated by his major league performances in the past, but it looks like it could be "sink or swim" time for the intimidating (6'5", 260 lbs) right-hander who throws 91-93 MPH and occasionally hits 95 MPH on the gun.

Drafted out of Puerto Rico in 2001 by the Pirates after a year in Junior College, he began his professional career as a starter. However, he began to progress more rapidly when he was moved to relief in 2005. Considered a low level prospect, he was eventually cut loose by the Pirates and ended up with the Nationals in 2007 where he was dominant in Triple-A with Columbus. This earned him a call up in September with the Nats and he impressed over a short stint. This enticed the Yankees to trade Tyler Clippard for him in 2008. He made the opening day roster that year but only pitched in 9 games due to an elbow injury. He split time between the Yankees and Scranton in 2009, but did nothing to earn himself a permanent spot in the big league bullpen.

This year he has been relegated to the minors mainly because of his recent unimpressive major league performances and the fact that he had minor league options left. But he has made the most of his situation down in Scranton. According to
Donnie Collins
he has changed the way he pitches:

"[Albaladejo] has completely reinvented himself, relying less on the two-seam fastball that he used to pound the zone with during his up-and-down tenure with the Yankees. Now, he's almost exclusively throwing a four-seamer that touches the mid-90s, changing the eye level with his slider and keeping hitters on their heels with a knee-buckling curveball. He is still mixing in two-seamers, but it's no longer his bread-and-butter."

This has translated into success. Albaladejo grabbed his second consecutive International League Pitcher of the Week Award this week after converting 2 save opportunities in which he pitched 2 scoreless innings with no hits or walks and striking out 2. He started last week by earning the save in Wednesday's Triple-A All-Star Game with a 1-2-3 ninth. For the season he hasn't allowed a run or more than two hits in an appearance since June 21 and has an 11.8 K/9 ratio. His 31 saves lead all of the Minor Leagues.

Still young at 27, he had nothing left to prove in Triple-A but outside of that September stint in 2007 he has not been able to put up the same type numbers in the majors (4.19 ERA; 6.64 K/9; 3.47 BB/9).
So is he another one of those Quadruple-A players? Well this may eventually end up being the final evaluation for Albaladejo, but for now he has plenty of opportunity to impress. In my opinion he did not need to do much to move past the likes of Chan Ho Park, Chad Gaudin and Dustin Moseley in the Yankees' under-performing bullpen's rankings.
Albie's line last night: 1.2 IP (it's been awhile since he has pitched more than 1 inning in a game); 2 hits, one of which probably should have been caught by Swisher; and 1 earned run charged in his second inning of work courtesy of a Chan Ho Park gopher ball. It's obviously a small sample size but his ball was moving tonight and he seemed to have good command while pitching a scoreless first inning. If he can be effective as the 6th inning bridge to Robertson, Joba, and Mo, that would be a tremendous upgrade to the bullpen.
Last night was a
good first outing for him to build on. Given his current competition for a bullpen spot, he should get some time to prove his worth.