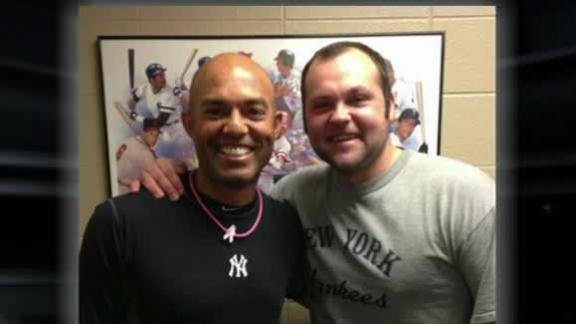 From
Wallace Matthews
:
The New York Yankees say they are one big happy family again, a day after middle reliever Joba Chamberlain publicly warned Mariano Rivera not to "shush'' him.

"We did talk,'' Rivera said Sunday morning. "It's good. Sometimes you have little things that we say that we don't mean. We're a family here. It's something that we take care of in house. Unfortunately it happened in front of you guys, but again, it shouldn't happen. We apologize and we move on.''

Chamberlain denied that he had apologized to Rivera -- "There's no need to apologize. For what?'' -- but said he and Rivera had "joked and laughed'' afterward.

"It's over with, it's done, it's really not an issue in the first place,'' Chamberlain said.
If you don't know, here's a summary of what happened:
The incident happened in the visitors dugout shortly before Saturday night's game between the Yankees and the Kansas City Royals. Rivera, who was conducting an interview with a small group of reporters about his meeting earlier in the day with the family of a young boy killed in an airport accident, asked Chamberlain to lower his voice because he could not hear the questions being asked.

"Joba, yo, bro, bro,'' Rivera could be heard saying to Chamberlain on a tape of the interview played for ESPNNewYork.com.

"Suave,'' Rivera said, using the Spanish word for soft, while making a palms-down gesture with his hands, according to eyewitnesses.

"You do this every day,'' replied Chamberlain, who apparently was trying to talk to some family members in the stands near the Yankees dugout at the time. "I don't see my family every day.''

Rivera could be heard chuckling on the tape, and continued the interview. But afterward, he was approached by Chamberlain, who said, "Don't ever shush me again.''

According to witnesses, Rivera tried to laugh that off, too, but a stony-faced Chamberlain repeated, in tones that contained a hint of threat, "No, seriously. Don't ever shush me again.''
Joba's an idiot, but at least it's all forgotten now.